This fakie pose appears inspired by the MLP G1 Dainty pose. It stands 5.5″ tall and features inset glass eyes. Note that the tail can either be one large plug (like MLP G1) or numerous small plugs (like the mane). They are marked MADE IN CHINA (one word on bottom of each first three hooves).
Click images to enlarge.
Pink with white flowers outlined in red with two smaller flowers outlined in blue:
Rooted tail (symbol on alternate sides):
Plug tail:
Purple w/ yellow flower symbol: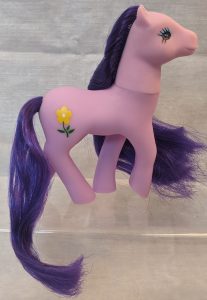 Purple/pink w/ yellow/orange/blue butterfly symbol: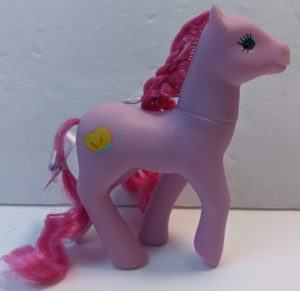 Pale yellow/purple w/ purple/yellow butterfly symbol: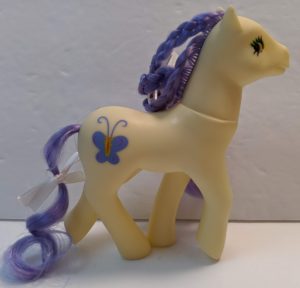 Alternate pose! (MADE / IN / CHINA on first three hooves; 2 on back hoof).
These two may be fakies of Gi-Go – they have Gi-Go symbols, but painted eyes, lower quality materials, and NO hoof markings: