Play Zone is the store brand of Big Lots, and the manufacturer on the package is named as Polyfect toys. There are family packs of adults and babies (unipeg parents generally have unicorn babies); adults have glass eyes in the same style as Gi-Go ponies, but Polyfect uses different molds. Some babies are marked Polyfect or Yuk Heng Clothing Factories under the tail, but otherwise these are typically unmarked when found out of package.
The Play Zone brand also make a series of smaller solid molded plastic ponies.
Click images to enlarge.
5″ Adult Earth Ponies
5″ Adult Unipegs
3.5″ Baby Earth Ponies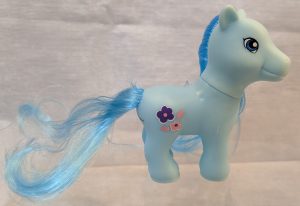 3.5″ Baby Unicorns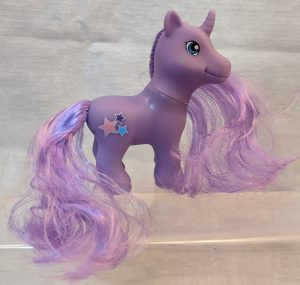 2.5″ Baby Earth Ponies
2.5″ Baby Unicorns
Large Size
In Package