Keenway made a line of pony toys in the 90's called My Princess Pony. They are all plastic, no rooted hair, and have legs jointed at the body. They stand about 4.5″ tall. They sometimes came packaged with a stable playset, or on a card with small accessories. The ponies are only marked "Made in China" on the leg, and the stables have the Keenway logo but no words, so most people don't know what they are called or who the manufacturer is. Now you know!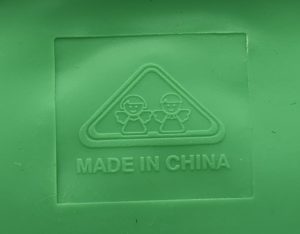 (Keenway logo, two children in double triangle outline)
There is also a smaller non-jointed fakie of the Keenway original.
I found the names for these off eBay listings in package.
Heidi:
Gigi: