This is a really pretty collection of ponies. I have found four sets with different quantities of ponies (some repeat) and lots of accessories. English packaging reads Princess Pony Myths. Click images to enlarge.
8″ pink pony with balloons symbol: (eyes are a bit different than the rest of them I have found but mold appears to be the same)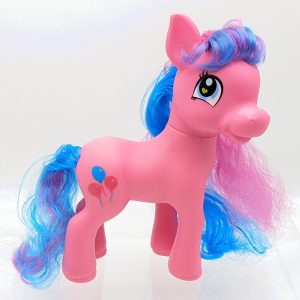 Vinyl purse 2-pack:
2-pack:
3-pack:
6-pack:
Castle Set: this came with the same three ponies from the 3-pack above, with some color changes to the accessories, and included a fakie Lego castle.