From Mattel: "Polly™ is launching her first-ever full-length direct-to-video DVD – PollyWorld™! Now girls can bring Polly™ and her friends' adventures to life with the PollyWorld™ Theme Park Party™! It's the event of the year! Polly™ will look totally glam in all of her stylish trends. Not only can she look fab at her party, but she can head to the Rockin' Theme Park™ and were her cool fashion in the magical transformation feature right before her band performs! The Theme Park Party™ comes in a cool tote for girls to take all their party fun on-the-go! Comes with one doll, lots of Quik-Clik™ fashions, accessories and a vinyl bag. Colors and decorations may vary. Subject to availability. Dolls cannot stand alone."
Click images to enlarge.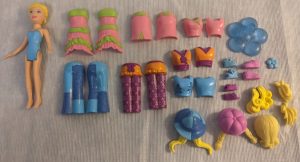 Note: There are two of the blue flower hair decoration.